Description
Features

• eXtreme High Definition for unsurpassed audio reproduction
• Tightly twisted dual conductors for maximum rejection of EMI and RFI
• Superior frequency response and clarity
• 95% copper braid and 100% foil double shielding
• Nitrogen Gas Dielectric for low attentuation and superior signal transfer
• Polished Silver Center Conductor for Enhanced Detail
• 24k gold contact precision machined RCA connectors for maximum conductivity
• X-Traflex jacket reduces cable stress
• Lifetime Warranty

Description

Comprehensive XHD eXtreme High Definition audio cables are designed specifically for for todays demanding audio applications to work with the latest source,display and surround sound stereo technologies including Dolby and THX, Plasma, LCD, and DLP displays, digital satellite and cable receivers, DVR's, satellite radio, MP3 players, streaming audio, and more. XHD cables provide far superior audio definition and the purest, cleanest audio imaginable for today's professional and home theater systems. Comprehensive's NGD technology (nitrogen gas dielectric) provides maximum signal transfer even over long distances.

XSW4 subwoofer cables were designed for the ultimate home theater experience. Hear how movies come to life when low frequency response is accurately reproduced using Comprehensive's XSW4 cable technology. XSW4 subwoofer cables were designed to get the most out of Dolby Digital 5.1 surround systems and they provide enhanced low frequency response for the tightest, deep bass reproduction. XSW4 subwoofer cables utilize a 100% Oxygen Free Copper center conductor for maximum signal transfer and no discernable loss. Double shielding of 95% copper braid (not 80 or 85% like competitors) and 100% aluminum foil rejects electromagnetic and RF interference. Dual conductors deliver improved response and clarity in the low frequency range. Premium 24k gold contacts with split center pin maximize connectivity and Xtraflex jacket provides unsurpassed durability.

When it has to work, it has to be Comprehensive!
Specifications
Connector Type 1: Precision Machined RCA Male
Connector Type 2: Precision Machined RCA Male
Connector Finish: Gold Plated
Performance Grade: Best
Gauge: 2 cond 19 AWG
Center Conductor: Solid Oxygen Free Bare Copper
Dielectric: Nitrogen gas Foam PE
Shielding: 95% Oxygen Free Bare Copper Braid Plus 100% Aluminum Mylar Wrap
Jacket Type: Xtra-Flex PVC
Jacket Color: Black
UL Rated: Yes
Temperature Rating: 80 deg C
Voltage Rating: 30V
Weight Lbs: 1.3
RoHS Compliant: Yes
Warranty: Lifetime
View All
Close
Warranty Information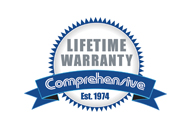 View All
Close