Description
Features

• 20 Awg Solid Bare Copper Construction
• Flexible Plenum Jacket
• CMP Rated
• 500 or 1000 ft put-ups

Description

Comprehensive CVC-59/P is a 20 awg solid conductor RG-59 type cable that is jacketed in CL-2P rated plenum for installation use. When you are not running cable through conduit in walls or ceilings, plenum jacketed cable is necessary to meet fire prevention requirements. CVC-59/P utilizes a 20 AWG bare copper center conductor, foam polyethylene dialectric and a dense, bare copper braid shield for maximum performance. Use our premium BP-2C7559P true 75 ohm two piece BNC connector, CT-1 crimp tool and CTD-003 die to terminate.
Specifications
Coax Quantity: 1
Center Conductor: 20 AWG Solid Bare Copper
Dielectric: .135" Foam Polyethylene
Shield: 95% Bare Copper Braid
Impedance: 75 Ohms
Capacitance per Ft: 17.5 pF/ft
NOM Velocity of Propagation: 77%
Attenuation @100MHz at 100ft: 2.5dB
Attenuation @400MHz at 100ft: 6.2dB
Attenuation @1000MHz at 100ft: 10.8dB
Bulk Lengths: 500/1000
Jacket: Flex-Plenum
Jacket Color: White
Overall Diameter: .205"
UL Rating: CMP
Temperature Rating: 75 deg C
Weight Lbs: 28
RoHS Compliant: Yes
Warranty: Lifetime
View All
Close
Warranty Information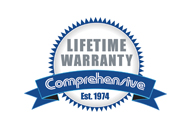 View All
Close