Description
Features

• Saves Time and Money while adding convenience
• Value Pack includes 10 cables
• Rated CAT5e 350 Mhz High Speed
• Meets all Category 5e TIA/EIA standards
• Snagless boot for easy installation
• RJ45 Male to RJ45 Male
• RoHS Compliant
• UL Rated
• Lifetime Warranty

Description

Comprehensive CAT5e Snagless Patch Cable Value Packs are a convenient way to save time and money in any professsional network environment!
Each CAT 5e Value Pack includes Comprehensive's CAT5e (Enhanced) cables which provide up to 350 Mhz bandwidth for high-speed signal transmission. Perfect for distributing data, voice and video on today's high speed ethernet and gigabit networks. Comprehensive CAT5e 350 Mhz Snagless Patch Cables meet all CAT5e TIA/EIA standards. Each individual pair is attached together to ensure proper spacing between the twists of the wire which greatly reduces loss compared to standard 100Mhz cable. Comprehensive CAT5e 350 Mhz Snagless Patch Cables have a molded low profile, snagless boot that makes installing these cables quick and easy everytime while providing superior strain relief. CAT5e Patch Cables are available in a wide variety of colors. Applications include: 1000 BASE-T; 100 BASE-T; 10 BASE-T (IEEE 802.3), 4/16 Mbps Token Ring (IEEE 802.5); 100 VG-AnyLAN 100 Mbps, TP-PMD (ANSI X3T9.5); 55/155 Mbps A, and Voice. RoHS Compliant. Lifetime Warranty.
Specifications
Connector Type 1: RJ45 Male
Connector Type 2: RJ45 Male
Total Cables in Pack: 10
Performance Grade: Great
Bandwidth: Supports voice/data/video distribution applications up to 350 MHz
Standards: Meets all Cat6 TIA/EIA standards, Verified to EIA/TIA 568B.2
Cable Style: Molded snagless boot
Conductors: 4 Twisted Pairs 24 AWG Bare copper stranded cable
Conductor DC Resistance: 9.8 Ohm at 100m maximum
Connector Material: Polycarbonate
Contact Material: Copper alloy plated with 50u gold
Jacket: PVC
Jacket Color: Grey
Weight Lbs: 3
RoHS Compliant: Yes
Warranty: Lifetime
View All
Close
Warranty Information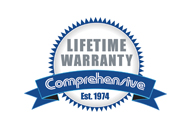 View All
Close