Description
Features

• Ultra High Speed 10.8 Gbps speed
• Greater than 24 bit color depth
• 8 Channel digital audio support
• DPCP and HDCP Content Protection
• Premium Construction with dense braided shield to reduce EM interference
• RoHS Compliant
• Lifetime Warranty

Description

Ensure ultimate high definition performance from Comprehensive DisplayPort cables. DisplayPort is an exciting next generation display interface designed to transmit ultra high definition digital signals between computers, displays, flat panels, projectors and other high definition content applications. DisplayPort supports a up to 10.8 Gbit/s data rate and WQXGA (2560x1600) resolution. Comprehensive Standard Series DisplayPort cables feature premium cable construction with for sharp, high definition picture and sound. Dense braided shielding eliminates EM interference to ensure the best digital performance. Comprehensive DisplayPort cables feature a small latching connector, two-way display connectivity, 24 Bit color depth and up to 8 channel audio support. Comprehensive DisplayPort cables come with a Lifetime Warranty.
Specifications
Performance Grade: Good
Connector Type 1: DisplayPort Latching Male
Connector Type 2: DisplayPort Latching Male
Bandwidth or Speed: Supports 10.8 Gbps
Gauge: 28AWG
Version: 1.2
Center Conductor: Tinned Copper
Connector Finish: Nickel
Shielding: 85% Braid
Refresh Rate: 120Hz
UL Rated: Yes
UL Rating: VW-1
Ferrite Cores: No
>RoHS Compliant: Yes
Jacket Type: Xtra-Flex PVC
Temperature Rating: 80 deg C
Voltage: 30V
Warranty: Lifetime
Weight Lbs: 0.3
View All
Close
Warranty Information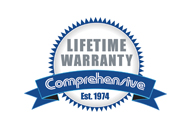 View All
Close