Description
Features

• Perfect for surface access boxes and other tight spaces
• State of the Art Flexibility
• Supports DVI-D Single Link up to 1900x 1200 @ 60 Hz and 1080p
• High Speed up to 10.2Gbps
• 30 Awg Copper Construction
• Low Bend Radius
• Gold Plated Contacts
• Lifetime Warranty

Description

These are easily the most flexible DVI cables on the market today. Their low profile design and un-heard of flexibility make them perfect for use in surface access boxes, equipment racks and other tight spaces. The pro grade construction consists of a smaller 30 awg tinned copper contruction for superior digital image quality and speeds up to 10.2 Gbps. Premium shielding ensures proper rejection of EM and RF interference. This versatile cable supports resolutions of up to 1900x 1200 @ 60 Hz and 1080p. Gold plated contacts and our famous Lifetime Warranty come standard.
Specifications
Performance Grade: Better
Connector Type 1: DVI-D Male
Connector Type 2: DVI-D Male
Bandwidth or Speed: Up to 10.2 Gbps
Resolution: Up to 1080p
Construction: Single Link
Gauge: 30AWG
Center Conductor: Tinned Copper
Connector Finish: 24K Gold Plated
Shielding: Triple Shielded, Inner 100% Aluminum Mylar Wrap, Outer 100% Aluminum Mylar Wrap, 85% Tinned Copper Braid
UL Rated: Yes
UL Rating: VW-1
RoHS Compliant: Yes
Jacket Type: Xtra-Flex PVC
Jacket Color: Black
Temperature Rating: 80 deg C
Voltage: 30V
Warranty: Lifetime
Weight Lbs: 0.4
View All
Close
Warranty Information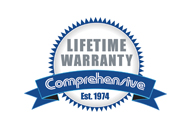 View All
Close