Description
Features

• Premium nickel plated HD15 male connectors on each end
• 28 gauge high quality construction supports high-resolution imaging up to QXGA 2048x1536
• 95% tinned copper braid shield
• Dual Ferrite cores for extra rejection of EM and RF interference
• X-tra Flex Jacket for easy installation
• Molded Strain Relief
• RoHS Certified
• Lifetime Warranty

Description

Standard Series VGA Cables provide exceptional value while still providing Comprehensive quality. Standard Series VGA Cables have molded HD15 male connectors on both ends and utilize a 28 gauge conductor for excellent picture clarity. 95% shielding and dual ferrite cores provide outstanding protection from EM and RF interference. Comprehensive's famous flex jacket and molded strain relief provide years of worry free use. Lifetime Warranty.
Specifications
Performance Grade: Good
Connector Type 1: HD15 Male
Connector Type 2: HD15 Male
Resolution: SVGA through QXGA (2048x1536)
Gauge: 28AWG
Center Conductor: Tinned Copper
Connector Finish: Nickel
Shielding: Triple Shielded, Inner Bare Copper Wrap, Outer 100% Aluminum Mylar Wrap, 85% Braid
UL Rated: Yes
Ferrite Cores: Yes
RoHS Compliant: Yes
Cable outer diameter: 0.33" (8.5mm)
Jacket Type: Xtra-Flex PVC
Temperature Rating: 80 deg C
Voltage: 30V
Warranty: Lifetime
Weight Lbs: 0.8
View All
Close
Warranty Information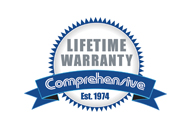 View All
Close