Description
Features

• HD15 Male to HD15 Male
• Combined Stereo 3.5mm Mini Plug Cable for audio
• 26 Gauge low loss construction supports high-resolution imaging up to QXGA 2048x1536
• 3 individually 95% tinned copper braid shielded coaxes
• 100% aluminum foil shield wrap provides extra coverage
• Low Profile Design for easy connecting in tight spaces
• Machined pins that stand up to 1,000's of connections
• Molded strain relief for unsurpassed durability
• X-traflex jacket for easy installation
• UL and RoHS Compliant
• Lifetime Warranty

Description

Since 1974, Comprehensive Pro AV/IT Series Cables have been trusted by Pro AV and I.T. systems integrators because of their legendary reliability, performance and value. That's why they have been the "go to" cable worldwide for boardrooms, classrooms, data centers, schools, government installations, stadiums, broadcast studios, stages and other mission critical applications. Pro AV/IT Series Cables are also perfect for anyone looking for premium quality connectivity at great price.

Don't be fooled by cheap imitations, there is no equal to Comprehensive Pro AV/IT series HD15 VGA cables with audio. These cables are true high resolution construction with three individually 95% shielded 26 gauge coaxes for maximum signal transfer and high resolution video and graphics. The entire cable is then 100% shielded with a foil shield to eliminate EM and RF interference, even over long distances. This cable also includes integrated audio by the way of a 3.5mm stereo mini cable. A durable low profile mold provides maximum strain relief and durability. Comprehensive goes the extra mile with machined pins which ensures the strength of each pin, to make sure they do not bend or break as imitation cables often do. Comprehensive Pro AV/IT series cables provide thousands of connections and a lifetime of worry free use. UL and RoHS compliant. Lifetime Warranty.

When it has to work, it has to be Comprehensive!
Specifications
Performance Grade: Better
Connector Type 1: HD15 Male with stereo 3.5mm Audio Male
Connector Type 2: HD15 Male with stereo 3.5mm Audio Male
Resolution: SVGA through QXGA (2048x1536)
Gauge: 26AWG
Center Conductor: Tinned Copper
Connector Finish: Nickel
Shielding: Triple Shielded, Inner Bare Copper Wrap, Outer 100% Aluminum Mylar Wrap, 95% Braid
Attenuation @100MHz at 100ft: 5.460dB
Attenuation @400MHz at 100ft: 11.109dB
Attenuation @1000MHz at 100ft: 19.423dB
UL Rated: Yes
Ferrite Cores: No
RoHS Compliant: Yes
Cable outer diameter: 0.35" (9.0 mm)
Jacket Type: Xtra-Flex PVC
Temperature Rating: 80 deg C
Voltage: 30V
Warranty: Lifetime
Weight Lbs: 1.4
View All
Close
Warranty Information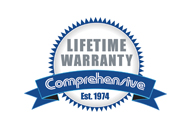 View All
Close