Description
Comprehensive Category 6 550MHz plenum shielded local area network cable utilizes 4 twisted pairs, an overall shield, plenum jacket, and solid 23 awg construction. Comprehensive Cat6 550Mhz plenum shielded bulk cable is ideal for your network installation
Features

• High-Performance Data Communications Cable for Noisy Environments
• Suitable for 550MHz High-Speed Data Applications, Gigabit Ethernet, Fast Ethernet and 155Mbps TP-PMD/CDDI
• Category-6 Shielded Twisted Pair (FTP) Plenum Cable
• 4-Pair - Easily Identified Color-Striped Pairs
• 23AWG Solid Bare Copper Conductors
• Excellent Attenuation and Crosstalk Characteristics
• Exceeds EIA/TIA 568 B.2-1, UL, CSA and ISO/IEC 11801 specifications
• CMP/FT6 rated for use in walls and in ceiling
• UL/cUL or ETL Listed
• Sequential foot markers
Description
Category 6 Shielded 550MHz Plenum cable. Supports all category 6 applications including Ethernet 100BASE -TX, 100BASE-VG and 155 ATM. Particularly suited for high bandwidth applications such as 622 ATM, Wideband, Ethernet 1000BASE-T and emerging applications with anticipated data rates to 3.2 Gbps. No. 23 AWG solid bare copper conductor insulated with FEP. Two colored mated insulated conductors twisted together to form a pair and four pairs assembled around a pair separator to form a core. The core is overall shielded and jacketed with a low smoke flame retardant PVC. Available in Blue, White, and Black color jackets. Foot-marked cable is packaged on wooden reels.

Electrical Parameters:
Mutual Capacitance: 14 pF/ft nominal
Capacitance Unbalance: 330 pF/ft maximum
Velocity of Propagation: 72%
Max. Conductor D.C.R.: 28.6 ohm/1000 feet
Max. DCR Unbalance: 5%
Max. Delay Skew: 45.0 ns/100m
Characteristic Impedance: from 0.772 - 100 MHz 100 ±15%, from 101 - 250 MHz 100 ± 22%
Technical Details:
Temperature Rating: Installation -0°C to 50°C, Operation -2°C to 60°C
Nominal Diameter: 0.305 in.
Nominal cable weight: 49 lb/1000 feet
Jacket Color: Blue
Standards:
ANSI/TIA/EIA 568C.2 Category 6
National Electric Code - Article 800
Codes & Listings:
NFPA 262 Plenum Flame Test, FT6
ETL Electrically Verified to ANSI/TIA/EIA 568C.2 Category 6
C(ETL)US CMP,FT6
RoHS Compliant: Yes
Warranty: Lifetime
View All
Close
Warranty Information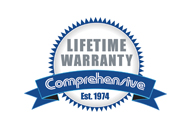 View All
Close